Noor Islamic Cultural Center
3 Jummah Salah's
1.00 PM ,2.00 PM ,3.10 PM
Eid Al-Fitr is on Thursday 13th May 2021
Open for
All Five Daily Prayers
RAMADAN 2021
COVID Protocols still apply

Social Distancing
Masking
Hand Washing/Sanitizing

Please bring your own Sujjah
Wudu will not be normally allowed
Police to Control/Direct Traffic
Towing – Parking Violators will have vehicle towed at owners expense.
Police will be handing out tickets for traffic and parking violations.
In Person Salah with also be Live Streamed.
First come , First Serve basis for Salah ( space is limited due to distancing)
Khatam-Ul-Quran
15 Min talk before Isha by Imam
20 Rakat Taraweeh
Short Talks after Asr on Saturday
No Itikhaf in Noor this year
No Qiyam ul Layl in Noor this year
ESL will only be first 20 days of Ramadan
Pre-Recorded Virtual Story Reading
Weekend Schools working as scheduled
Youth Program will be listed on niccyouth.com
MEN's Prayer Areas

1st Floor
Basement
Amphitheatre & Outside Areas

SISTER's Prayer Areas
Kids 10 and under not allowed
Kids over 10 only allowed when accompanied by Parents.
No Baby Sitting this year
Eid Al-Fitr is on Thursday 13th May 2021
The NICC team has been working diligently on a plan to enable us to have Salaat-ul-Eid while ensuring social distancing measures.
As part of the plan:
Two Eid Prayers will be held at Noor
First Prayer Eqamah at 7:30am sharp
Second Prayer Eqamah at 9:30am sharp
Takbeerat will start 15 minutes before Eqamah times of each prayer
No registration is required
We will pray like we do in Jumuah/Taraaweeh – FIRST COME FIRST BASIS
PLEASE COME PREPARED
In order to better plan for the weather, PLEASE Bring your Prayer Rugs along with a plastic tarp
Please come with wudu
No strollers & car seats allowed in the musjid
Please follow all CDC guidelines including the requirements of
wearing the masks at all the times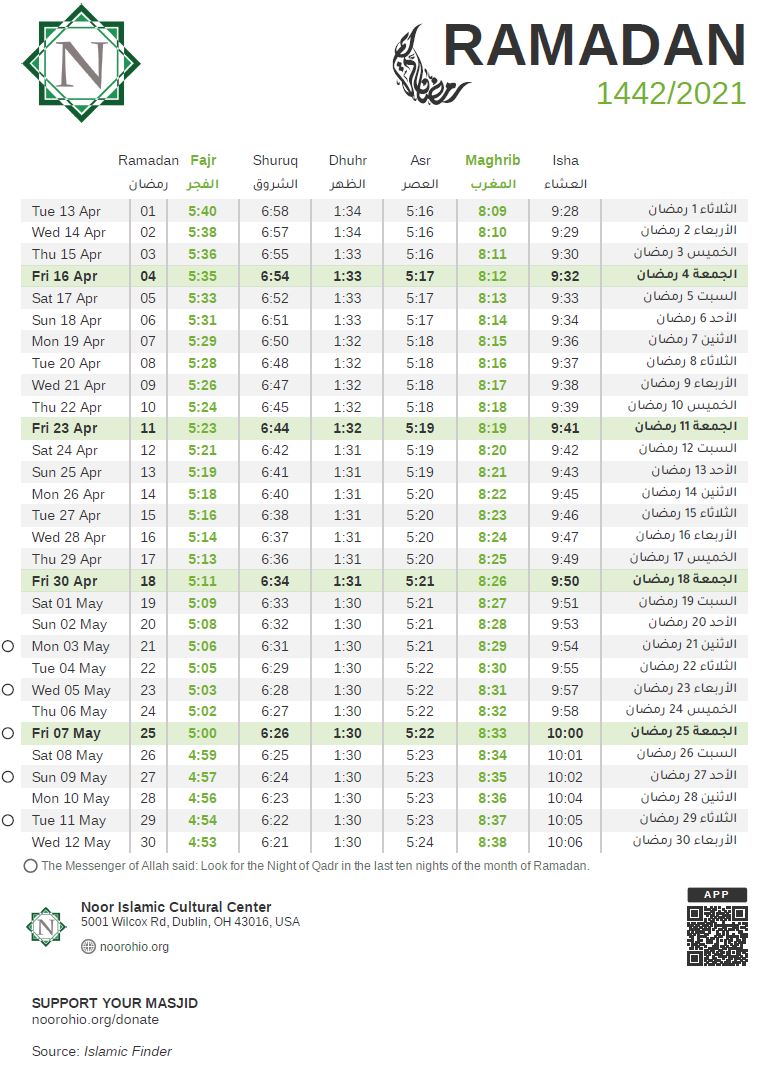 IFTAR BOX PICKUPs  ON FRIDAY OR SATURDAY BETWEEN 6.30 PM TO 7.30 PM EDT